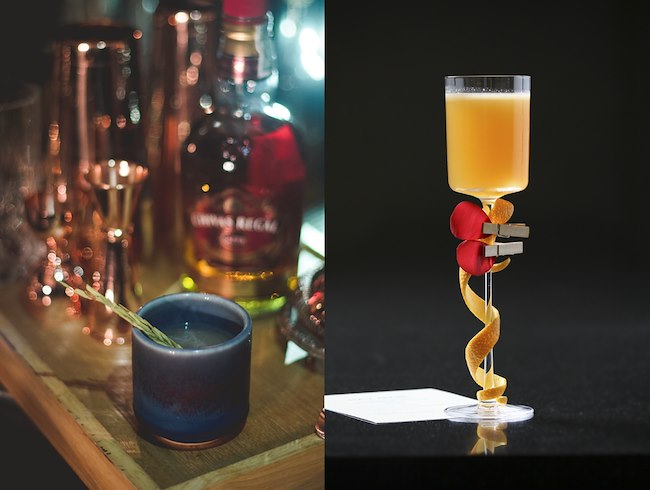 CHIVAS REGAL -Meet the Master-
Enjoy cocktails crafted by the expert mixologist, Aaron Grendon who won the Chivas Masters 2018 Cocktail Competition's world championship and Kentaro Wada, the head bartender at the Bar and who also won the Japan championship.
- November 30, 2023
¥ 3,600 each
Cocktails by Mr. Arron Grendon
THE GRIND
(Chivas Masters 2018 winning cocktail)
Chivas 18, Tio pepe fino sherry, Black sticky rice, Coconut cream, Banana, Sugarcane shrub
JAZZ CLUB AFTER HOUR
Chivas Regal 18 Mizunara Oak Finish, Cocoa nib, Cranberry cordial, Vermouth blend
Cocktails by Wada Kentaro
FOREVER 18
(Chivas Masters 2018 winning cocktail)
Chivas 18, Saijo shiro mirin, Homemade cashoew nut liqueur, Bergamot puree, Orange bitters
ABERDEEN HIGHBALL
Chivas Regal 18 Mizunara Oak Finish, Elder flower cordial, Horii Shichi Meien hoji tea, Alpaco infused Lillet Blanc
Marriott Japan Cocktail Competition 2022
¥ 3,600 each
This competition was held based on the idea of making the "Great hotel cocktail experience" more accessible and enjoyable as a new destination for many people in Japan, where domestic travel is revitalizing and inbound tourism is once again on the rise.
The judging theme was "GO LOCAL" and the main spirit was " Suntory Japanese craft gin ROKU. " Cocktails based on these were created using ingredients from various regions throughout Japan.
We hope you enjoy the cocktails that achieved excellent results in this competition.
*All prices include applicable tax and service charges.